After the first successful round of banners we could not stand to see that cute sheep standing in the rain all the time. So this time it was all about building shelter for them! Also featured: flash video, which was just about getting popular at that time.
"Hütte" (Hut)
Ever wanted to play "Deutscher Schäferhund"? This was your chance: you had to try to bring the sheep back home into their hut by pushing them with your mouse.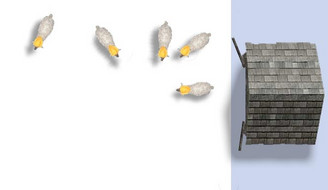 "Movie Banner"
Crossland did several TV commercials that were transformed into Flash-movies so they could be streamed into the banners. The movie played in a quick start low quallity version at first, and became bigger and better when the mousepointer moved into the banner.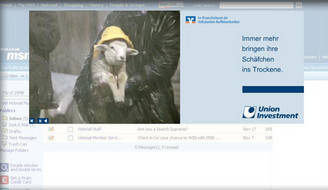 "Run"
They're coming home! Three sheep fresh from the rain, getting back to their hut and looking forward to getting their food. Again we tried to give the animals a natural animation as much as possible within the strict filesize and performance limitations that the big websites have for Flash banners.