MMI – Der Wissensverlag is a leading communication enterprise in the health sector. They host a big portfolio of well known reference books, encyclopedia and information media on the topic.
MMI see themselves as an intermediary between the pharma industry and the specialists of the health system. Target audience of their media are physicians, but more and more also other professions like Therapists of all fields, nurses and healthcare workers.
MESO Web Scapes joined together with DG Medien in Heidelberg to extend the aspekt:ratio content management system to create a feature rich application hosting some unique content retrieval systems for several book projects, as well as the usual bunch of websites accompanying some of their books and magazines.
Website of the German magazine for physicians "Der Kassenarzt" with all the features of a modern website: news, essays, lots of information and the possibility to take part in forums and "tips for colleagues".
March 2004 - December 2004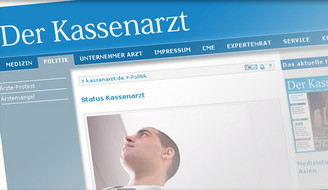 The handbook "Fitness-Einrichtungen" is a collection of all important German fitness studiosOur project partner DG Medien integrated the database into the existing content management system we did für "Handbuch Reha- und Vorsorge", also by MMI. Now the book is automatically generated and the data is available on a MESO-designed website at the same time.
June 2006